Da Vinci Diamonds
27th June 2008 1:11 PM

When I logged in yesterday I was surprised to find a new addition to the site, Da Vinci Diamonds. Being a bit of a multi line slot fiend I, of course, had to test it out and I have to say I really enjoyed playing it. The game play reminded me a little of the old Nintendo game Tetris. When you play Da Vinci Diamonds at GetMinted Casino you have the choice of ten credited denominations...
1p, 2p, 5p, 10p, 20p, 50p, £1, £2, £5 and £10 – being a bit of a cheap skate I stuck with the 1p option. You then need to choose how many credits you wish to play per spin from 1 up to 5. Da Vinci Diamonds is a 5 reel 20 line multi line slot game so for a maximum 20 lines on 5 credits at 1p a spin it's going to cost you £1.00 per spin.
What is quite unique about this game is the reels down spin in the tumble in and when you get a win the symbols that make up the win disappear and new symbols tumble in to their place. You can see below an example of how it works:-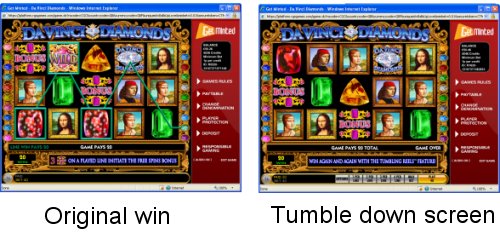 The Tumbling Reels feature will continue until there are no more winning combinations on the screen, to continue with the game you then just have to hit the "spin" button again.
Free Spin Bonus

The free spin bonus is initiated when you tumble in three bonus symbols (see left). This will then activate 6 free spins and if during this bonus round you tumble in another 3 bonus symbols more free spins will be added. This can continue multiple times until you have accumulated 300 free spins.
During the bonus round, if you are lucky enough to tumble in more bonus symbols the amount of extra free spins is dependant on the number on the winning line.
3 symbols – 2, 3 or 4 extra spins
4 symbols – 4, 6, 8 or 10 extra spins
5 symbols – 6, 8, 10, 12 or 15 extra spins.
The bonus round ends when you have used all your free spins and the counter shows 0.
This is definitely going to be another firm favourite of mine!

Page Last Updated: 02/03/2015 17:20:15