Jenga
7th May 2009 12:31 PM

If you fancy a slot that's not then try out this brand new online slot from InterCasino. Jenga is a brand new online slot game from the Cryptologic group but unlike other online slots this one has no reels. Jenga is one of the most easily recognisable games worldwide, played with blocks it's simple to learn and easy to play. Luckily this new online slot boasts the same attributes, all packaged up in a colourful, graphic-rich, feature filled fun slot game.
The game itself is an 18 pay line slot game with fantastic animations and sound effects. Choose from 9 or 18 pay lines and drop the Jenga blocks attempting to match three coloured blocks on a line. Any blocks on adjacent lines matching increase your win to give you a winning combination.
The game offers over twenty vibrant backgrounds which are interchangeable or can be set to remain static. The maximum payout for the game is 50,000 coins and with play starting from just 5c which is 45c over 9 pay lines it's not a bad return for your money if you get lucky.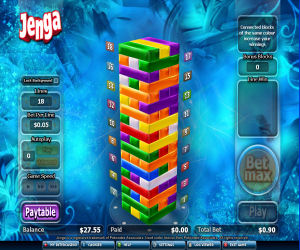 Jenga Gamescreen

While playing look out for the Magic blocks, these transform the colour of surrounding blocks to match and increase your wins. Layer bombs remove layers from the tower and replace them with brand new blocks at the top. More blocks are added for each winning combination and if you are lucky enough to topple the Jenga Tower then you get a free go at this exciting game from InterCasino.

All in all an Jenga is an edge of your seat game, thrilling and great fun to play. If you like traditional online slots with reels and symbols then this game might not be the one for you but if you fancy trying something a bit different today then this game will have you on the edge of your seat.
Page Last Updated: 02/03/2015 16:29:05