Millionaire Genie Slot
21st May 2008 6:33 PM

Millionaire Genie is a 3 reel progressive slot game with just one payline and is available at Casino on Net – 888.com. You don't have lots of coin values on this game, the minimum is $1 and the maximum $3 but to win the jackpot you would need to be playing the maximum bet. Personally I'm not a huge fan of the one pay line slots, I much prefer the multi line slots with bonus games but in the interest of all things casino you have to try these things.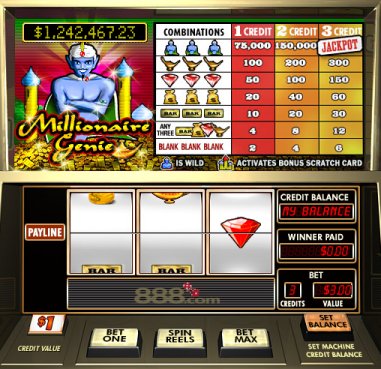 Millionaire Genie does offer a bonus round and to activate this you have to roll in the Millionaire Genie symbol (see left) on the first reel. The paytable at the top of your slot machine will then change to a scratch card. You then have to scratch off three circles and you will win the combined total of the circles. If you are lucky enough to scratch off three identical amounts then you will initiate another bonus round, these can repeat indefinitely.
The Millionaire Genie symbol is also a wild which can complete any winning combination.
Whilst I was playing Millionaire Genie the jackpot stood at over $1.2 million and was rising constantly.
For me the game was just tedious, it took ages to show you your win amount if a win rolled in on your pay lines and I couldn't spin in one Millionaire Genie symbol. This could however be because I chose the demo version of the game. Having said that it does offer any player the chance to win a substantial amount of money and as I said, three reel slots with one pay line aren't really my cup of tea but they could be yours in which case Millionaire's Genie could be just up your street.

Page Last Updated: 22/02/2019 13:41:54