Millionaires Club Slots
19th May 2008 1:39 PM

After writing about the Millionaire's Club slots latest big winner I thought I'd give the game a whirl for myself, you never know I might have Lady Luck sitting on my shoulder today. This game is available at a multitude of online casinos but I took my chances of William Hill's Casino. Millionaire's Club plays on five reels and nine lines and you have a choice of coin values to play – from 10p up to £5 per spin.

The first thing you need to do after the game has loaded is determine your coin value. I went for the lowest option available; I'm not yet a member of the Millionaires Club after all! My first spin netted me a win of £2.50 not bad for an initial outlay of 90 pence!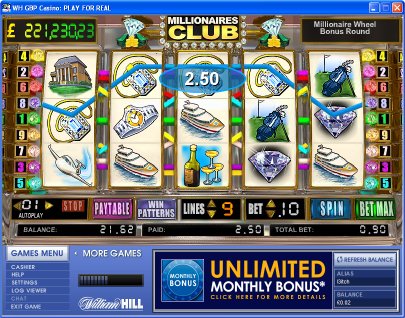 Bonus Game

This is initiated by getting three Millionaire Club symbols (see left) anywhere on the board.You then have to click spin to start, when the wheel stops you win the prize that it lands on, you can then choose to spin again or collect your bonus to end the game. If you land on the symbol "B" you lose all the prizes you have won so far and it ends the bonus game.
The more spins you make on any of the wheels the more "B" symbols appear.
If you land on the arrow symbol that moves you in a wheel where the multipliers increase.
I did get on the bonus board a couple of times and on my first try I got scared of all the B's appearing and collected after two spins but on my second try I got a little braver – my wins were up to £14.40 and I spun again only to land on a B but was awarded a consolation prize of £3.60.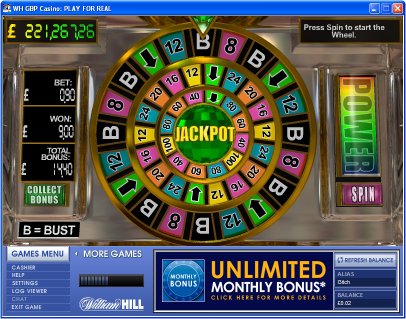 Wild Symbols

If you are lucky enough to get a Platinum card (see right) on a pay line this will substitute for any symbol and can earn as per the following:
5 x 10,000
4 x 5,000
3 x 250
2 x 25
1 x 2
Millionaire Club Scatter bonus
If you get two Millionaire Club symbols anywhere on the reels this will win you 1 x your initial stake.
Although the Millionaire Club slots offers players the potential of winning really big and it does happen I wasn't overly keen at 90 pence a spin. I deposited £20 and within 20 minutes it was gone with nothing to show for it.
I much prefer the games where you can play lower stakes but with such a huge jackpot available on the Millionaire's Club slot you can't expect to pay peanuts for your spins.
Not a personal favourite of mine but if you fancy your chances at winning big then it will definitely be the game for you!

Page Last Updated: 22/02/2019 13:55:51