Online Monopoly Slots - Here and Now
12th May 2008 5:02 PM

I remember spending many an hour playing Monopoly with my brothers when I was younger and always being suspicious of them when they were the banker; I swear they used to slip themselves extra cash! Well one of the most popular online casino slots at the moment is based on the board game Monopoly. Monopoly Here and Now is a multi line slot game that offers players the chance to get onto the Bonus Monopoly board and win big.

There are 20 pay lines when you play Monopoly Here and Now and each spin offers you the chance of adding properties to the bonus board, credits to the free parking pot and the opportunity to roll in a win by simply matching symbols.
---
Deeds

The addition of properties to the bonus board is given when you roll in 3 Deed symbols on a pay line (example left) and the type of property is dependant on the amount of credits you are using per spin.
1 credit = 1 Apartment
2 credits = 2 Apartments
3 credits = 3 Apartments
4 credits = 4 Apartments
5 credits = 1 Hotel
A deed symbol can appear on any of the other icons used at Monopoly Here and Now. When you get onto the bonus board having properties on the board means if you land on a square with a property the value of your win is multiplied by the properties on it.
For example: Playing 1 credit
Land on Brick Lane with no properties wins 12 credits
Land on Brick Lane with 3 properties wins 36 credits
Free Parking Meters

Sometimes when you are playing you will see parking meters roll in on your pay lines, these will boost your parking meter pots and only come into play when you get on to the bonus board.
If you are lucky enough to land on Free Parking when on the bonus board then you race three cars, a red, orange and yellow car – each representing different parts of the parking meter. Whichever wins the race that's the amount of Free Parking bonus credits you win.
Initiate Bonus Board

To actually get onto the bonus board you need to roll in three Board Bonus dice symbols on a pay line. When they do roll in you will then have to choose one of the three to determine the number of bonus rolls of the dice that you will be awarded.
The bonus board also hosts the risk of being sent to Jail as in the real board game, if you are unlucky enough to land in jail, as with the board game, you have to roll a double to be released.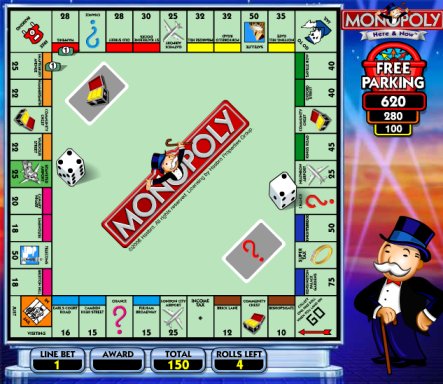 I really enjoyed playing the game and it's a fun game which reminds me of my younger days that are now long gone. All the features of the board game have been incorporated into this slot game including the Community Chest and Chance cards, the passing go bonus and not forgetting the income tax charge!

Page Last Updated: 20/05/2016 10:12:10