Wheel of Fortune Slots - Triple Action Frenzy
12th May 2008 4:50 PM

In days gone by I used to sit and watch Nicky Campbell presenting Wheel of Fortune with Carol Smilie as his side kick and love to try and guess the phrases, I usually did pretty well even if I do say so myself. Some online casinos bring the game to your web browser with the multi line slot game Wheel of Fortune Triple Action Frenzy, its fun, fast and sometimes very frustrating.

The Triple Action part of the name comes from the 3 extra ways to win, with the Super Wild Card coming out on pay lines and giving you the chance to multiple a pay line win by 5, the gamble option which gives players the chance to "double or nothing" by simply choosing black or red and spinning a wheel and then the bonus game where you can win loads of extra credits.
Super Wild Card

When you are lucky enough to get this symbol roll on to a pay line and it is the line of a win or potential win you get a chance to pick one of 5 envelopes. Each envelope has a multiplier behind it, either 2x, 3x or 5x. Whichever amount you get determines how much your win is multiplied by.
Gamble option
Doesn't really need explaining, if you manage to spin a win then the "gamble" button will light and you can decide to gamble or not. Choose black or red, spin the wheel and if you guessed correctly your win is doubled. You can continue to gamble or take the win at any time during the gamble.
Triple Action Bonus

Roll three of these symbols on a pay line and you are on your way to the Wheel of Fortune. As you can see from the screenshot you then have three words and 20 tiles. You then have to pick tiles randomly and try and insert as many letters into the three words as possible. In amongst the 20 tiles there are hidden 5 spin symbols and these are of many variations and vary each bonus round
Red
Yellow
Blue
Red & Yellow
Red & Blue
Blue & Yellow
Red & Yellow & Blue
The best spin symbol to hit is obviously the later because then you initiate multiplies on all three pointers.
Once you hit a tile that reveals a Spin symbol, dependant on how many letters you have completed in the words determines how many multiples you will get on the spin board.
For example:

On the board below I managed to mark off three letters in red word, one letter in the blue word, and one letter in the yellow word before I hit the spin symbol. The spin symbol I hit was Blue/Yellow which meant when I moved to the spin board I had 1x for blue and 1x for yellow pointers.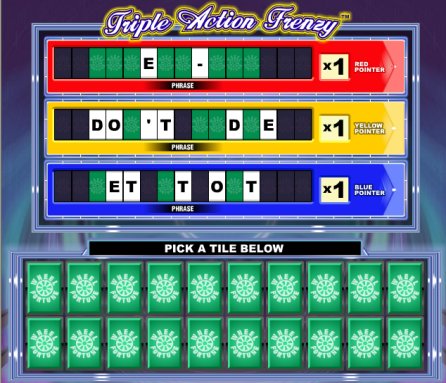 You then spin the board and wherever your pointers stop is the amount of credits your multiplier will win.
As well as all the above special bonuses you also have many ways of winning on pay lines and in keeping with the TV game show cars and holidays feature in these pay lines.
Wheel of Fortune Triple Action Frenzy is another great game, I'm beginning to think that casino games based on TV shows and board games are the ones that appeal to me most!


Page Last Updated: 20/05/2016 10:11:04