Jewel Quest Slot
3rd October 2008 7:08 PM

Brought to you by the Cryptologic group, Jewel Quest is an online slot based on the popular video game, now I wondered how they could possibly base an online slot on this flash video game and was in for a shock when I started to play. This is because Jewel Quest is totally unique, doing away with the traditional lines the game plays just like the video game with jewelled squares and wins horizontally and vertically across the jewels.


Play Now at InterCasino
Due to the fact that there are no reels and lines, wagers are placed per game rather than per line, you can set your wager according to your own betting limits with wagers ranging from £1 to £500 per game.

Like the video game a winning line consists of three of more consecutive symbols appearing on the game screen in either horizontal or vertical lines, wins depend on the value of the jewels you line up with the Jewel Quest online slot having a jackpot of 2,000 coins.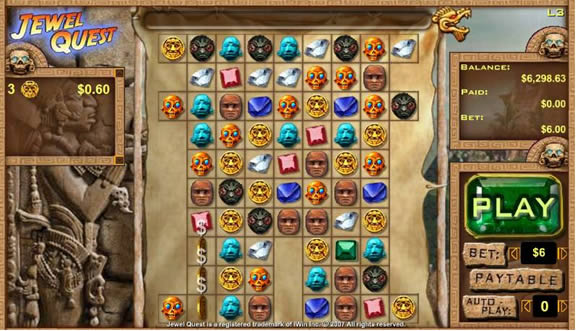 Game Screen
You start the game just like the video game with a grid of squares, as you spin jewels appear and the aim is to line up three or more jewels vertically or horizontally, as you line them up they explode and fall down the screen allowing more jewels to appear.

As the jewels disappear the squares will stay highlighted and to finish the level you must highlight every square, at the end of each level you receive a bonus. Set your wager appropriately as you cannot change it until you've cleared the screen.

All the jewels on Jewel Quest have their own payout totals with the highest being the gold jewel which pays between 200 and 2,000 times your wager. This one is the key to the jackpot so look out for it.

And here's what I think. I love it, absolutely hooked from the very first spin, the graphics are enchanting and easily better than the flash video game. Jewel Quest is original and has a total uniqueness that you never see on any online slot. As any regular online slot player will know, often online slots are full of rehashed ideas with different graphics but the principle is the same from slot to slot. If you fancy something totally unique and different with great prizes and great playability then give the Jewel Quest online slot a whirl!

Page Last Updated: 14/07/2022 11:16:19