Millionaires Club Slot
30th August 2008 9:23 AM

Millionaires Club is a five reel progressive slots with nine different pay lines. It's incredibly popular with players from all around the world due to it being both exciting and entertaining. Coin sizes differ; you can play from 25p-£5 per coin making this an online slot to suit all pockets and varying budgets. Playing is easy on this user friendly slot, firstly choose your coin size, click the up and down arrows to increase or decrease your coin size.
Then select the number of lines you wish to play, the cost of each spin will be your coin size multiplied by the amount of lines you have chosen.
As soon as I start to play I can see why this online slot is so hugely popular, with scatter features and a bonus round it's exciting and engaging, with realistic slot sound effects and some great prize, not to mention the rather appealing progressive jackpot.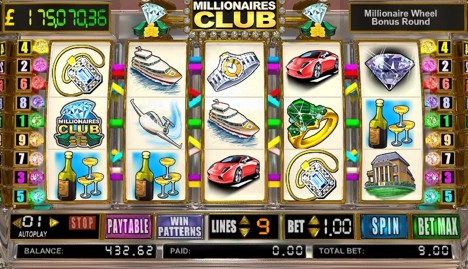 To activate the bonus feature you're looking for three Millionaires Club scatter symbols in any position on the reels, scatter symbols only appear on the first, third and fifth reels. When the bonus feature is activated a prize wheel made up of three circles inside each other will appear, each circle will spin, leading in to the circle inside it, the number on the reel will multiply the amount on the inner circle by that amount. The amount that appears inside the circles when they have all stopped spinning is your total bonus win.
You can opt to take the prize and end the bonus feature at any time, or spin again. If you choose to spin again and the number will dim and become a 'bust' spot signified by the letter B, if that's what you land on then the bonus feature is over and you will receive a consolation prize.
If you are lucky enough to get to the centre circle you win the Jackpot, the progressive at Millionaires club start at a staggering £175,000 so hit it and you're in for a very nice payout.
All in all a very appealing online slot, definitely one I would play again and again.

Page Last Updated: 14/07/2022 11:16:52