Street Fighter Slot
9th August 2008 3:54 PM

If you're a fan of video games and you love online slots then we may have just the game for you. Street Fighter is bursting onto your screens offering a multiline slot game that promises lots of fun and bonus features. Street Fighter is a five reel, 25 line online slot, you want to be playing the full 25 lines for your chance to activate the bonus feature so you need to set your bet accordingly. You can set cost per line between 1p and a staggering £20 meaning you can realistically play for 25p a spin, which is pretty good value for money.
Of course if you're feeling wealthy you could go for the £20 a line which would set you back a staggering £500 per spin if playing the whole 25 pay-lines, if you can afford £500 a spin I'd be more inclined to try a game with a little less luck and a little more skill than online slots but that's just my personal opinion, the option is there for those who want it.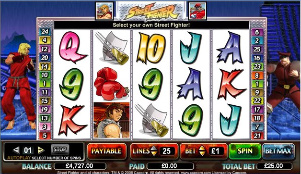 Game Image
When you start the Street Fighter game you'll be asked to choose a character, choose from Ken, Sagat, Ryu, Guile or Chun Li and that character will be your 'Street fighter' for the rest of your game, to activate the bonus feature on this online slot line up your chosen fighter on reel two and the bison on reel four. This will activate the fight feature and as you spin the reels your opponents will perform one of the many moves (punch, kick, or the characters special move) every time you line up the reels with the symbols, earning you cash prizes. There's a health bar at the top of the screen and as soon as your health bar runs down the bonus round is over.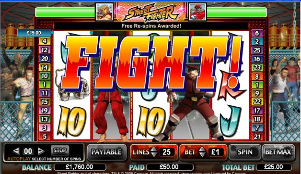 Bonus Round
And here's what I think. The game-play is smooth and seamless, it's user friendly and easy to play. If you love scatters and free spins then maybe this isn't the game for you as although the scatters pay well (Street fighter symbols) there's no free spins attached, in fact you'd have pretty high hopes of a game that sounds so innovative but having only one bonus feature really lets it down. The fight scenes are fun and profitable and if you're a video game fan I'm sure you'll love the bonus feature which is the most interesting part of the whole game and the only thing that sets it apart from the other online slots available out there.

Page Last Updated: 14/07/2022 11:18:20